Prices
Professional real property web design for professional realtors – at uncompromisingly good prices!
The real estate website with your design including integrated management software at a
bargain price.
The first 3 months you get the real estate software from immoprofessional for only 29,95 € monthly.

After that, the monthly usage fee is only €59.95 in full.

Includes an unlimited number of objects and users/workstations.

You get the full service package for your real estate software:

Your individual, ready-to-occupy website from immoprofessional.
1 desired domain, e.g. www.ihr-namenswunsch.com
An unlimited number of objects, images, users, data, files, email addresses and email boxes (max. 150 MB storage per email box).
Already included with us at no extra charge: mobile web design, exposé designer, lead generator, file management, occupancy plan, form editor, SSL encryption and right of withdrawal tool.
Optionally, we offer Microsoft Exchange 2016 with 20/30/40/50 gigabytes of storage (see below).
Unlimited email/data transfer.
If you already own a domain, we will take care of the move to immoprofessional for you free of charge!

only 3-month contract period.

No setup fee.
Order now
Order now
Optional services of your brokerage software:
(web design, Microsoft Exchange 2016, additional domains, multilingualism)
Web design (optional service):
01

You can make the complete design of the incl. website with simple means, free of charge.

02

You can hire any web designer from your own environment. For experts, there are special expert fields, through which your web designer has more possibilities for design.

03

But if you prefer to leave the design in professional hands, we at immoprofessional offer two design packages from our in-house web designer:
Basic design package for only 990 € unique
Premium design package for only € 1,990 unique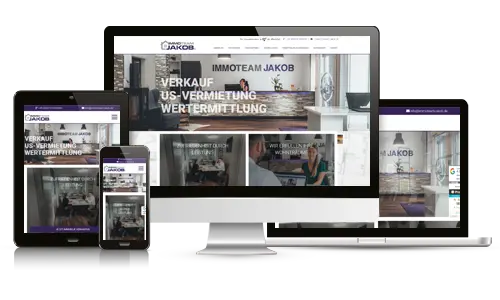 To the references
Microsoft Exchange 2016 (optional benefit):
Syncronization with the calendar in your immoprofessional website
Keep your emails, contacts, appointments and tasks in sync on any number of devices, for example: Windows Outlook 2013/2016, Mac Mail/Contacts/iCAL, iPhone, iPad, Android smartphones, Windows smartphones, BlackBerry.
20/30/40/50 gigabyte mailbox storage.
One Outlook 2013/2016/Mac Outlook 2016 license is included per Exchange Server (30 or 50 gigabyte sizes only).
Daily backups.
The connection to the Exchange Server is SSL encrypted.
Free setup support.
Test four weeks free of charge.
Per mailbox/email address from only €9.00 per month*.

For more than one domain (optional service):
Per .de-Domain 1,99 €* monatl.
Per .com, .net, .org, .real estate domain 2,49 €* monthly.
Almost all domains available on the market are possible, prices on request.
Test 30 days without obligation & free of charge
Thank you!
You will shortly receive an email to "" with the login to your personal test version. Of course, it's free and non-binding.

All content that you enter in the test version will be used with a later order. So you can hit the ground running with your personal test version of immoprofessional.

Internet greetings - your immoprofessional team.
Convince yourself now and discover the impressive
possibilities of your new brokerage software!