Occupancy plan
The free occupancy plan from immoprofessional.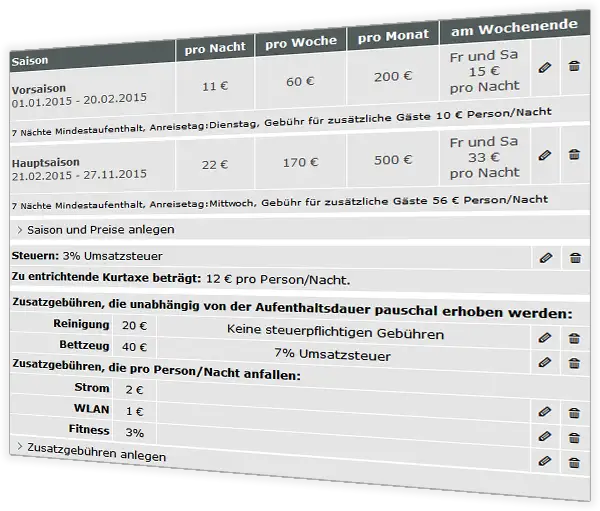 (Input mask - season + taxes + one-time/recurring costs)
The sales plus for your vacation properties:
Whether vacation home, vacation home or short-term rental of your properties: With the occupancy plan tool of immoprofessional! you and your customers always have the full overview.

The free occupancy plan is already integrated in the software of immoprofessional! and can optionally be switched on by you.
This is what the immoprofessional occupancy plan offers you:
Clear occupancy plan including occupancy list with all important customer data directly in the immoprofessional! Management.

You can enter your seasons, prices and (additional) costs directly yourself.

The occupancy plan is optionally visible in the exposé for customers.

Bookings from customers can be made directly in the exposé.

The total price of the entered bookings is calculated automatically.

You will be informed about a booking by e-mail and you can confirm/edit it in the administration.

The design automatically adapts to that of your website.

Any number of vacation properties are included in the monthly package.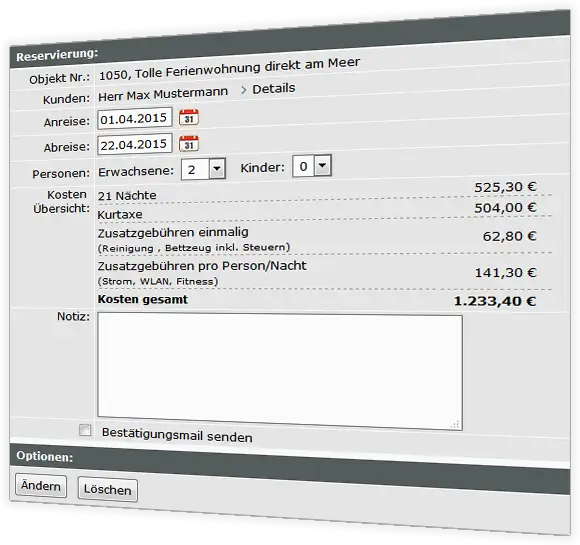 (New booking is created - manually by the broker or by your customer in the exposé of your website)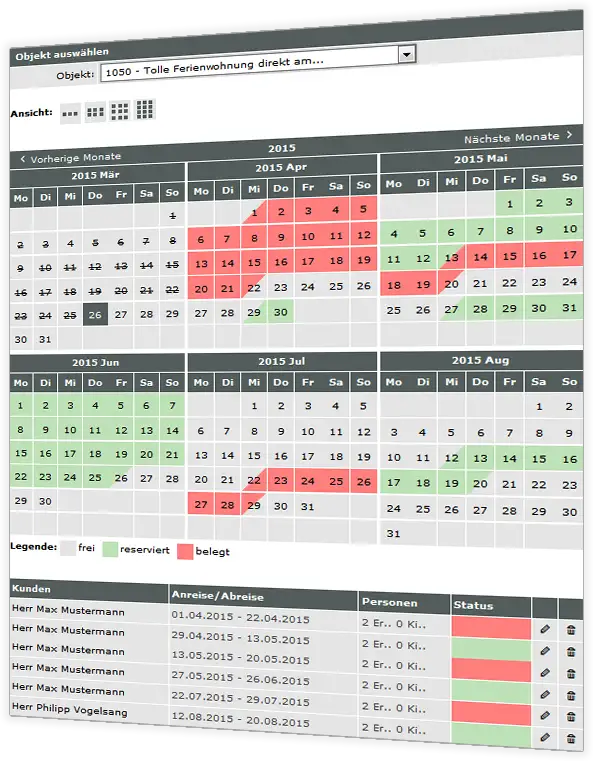 (Overview of reservations)
Vacation rentals clear and efficient:
Not only for your customers presents our occupancy calendar clear and clearly structured, but also you in the administrative interface.

This simplifies you the Belegunskalender of immoprofessional! significantly the mediation of vacation and vacation properties.

With a few clicks you deposit reservations and transmit the customer the corresponding cost overview. New bookings can be made either only manually by you or directly by the customer in the exposé of the object.

This gives you the opportunity to almost completely automate the process of a vacation booking.

Do you have further questions about the vacation rental brokerage software of immoprofessional!? – Contactus completely without obligation.
Test 30 days without obligation & free of charge
Thank you!
You will shortly receive an email to "" with the login to your personal test version. Of course, it's free and non-binding.

All content that you enter in the test version will be used with a later order. So you can hit the ground running with your personal test version of immoprofessional.

Internet greetings - your immoprofessional team.
Convince yourself now and discover the impressive
possibilities of your new brokerage software!