File management
The clear file management for data and photos. Especially for your real estate company.
With immoprofessional's file management, your files and photos are conveniently combined in a cloud database. Only you and your employees have access.
Simply store your files in the cloud file management, which is already included in the real estate agent software of immoprofessional!.
So you and your employees have a quick access online at any time.
In the file management you can save files (documents, images, templates, contracts, etc.) and create subfolders to access them at any time and thus better structure your data.

The data stored in the file management can only be accessed by you or your employees.

You can assign each user their own file management. In addition, there is a public folder for files to be shared.

Rights management regulates which folders or data a user has access to and whether they can only read or also write and delete data.

The stored data can be downloaded at any time or accessed at various points in the software, e.g. when sending e-mails or for info material on real estate objects.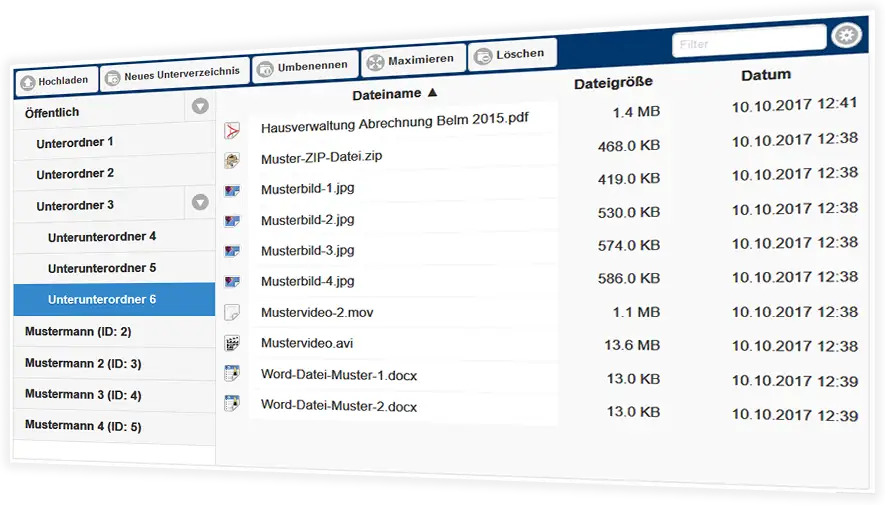 Test 30 days without obligation & free of charge
Thank you!
You will shortly receive an email to "" with the login to your personal test version. Of course, it's free and non-binding.

All content that you enter in the test version will be used with a later order. So you can hit the ground running with your personal test version of immoprofessional.

Internet greetings - your immoprofessional team.
Convince yourself now and discover the impressive
possibilities of your new brokerage software!