Exposé-Designer
Create the PDF exposé and slideshow design for your real estate objects with immoprofessional.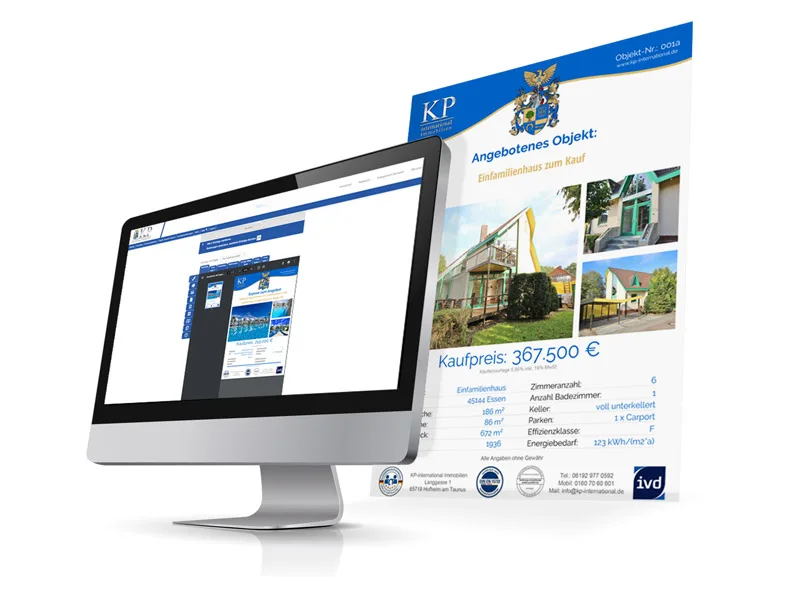 Simply create the design of your PDF exposés yourself or import already finished templates from an extensive template database. With the Exposé Designer from immoprofessional - the comprehensive software solution for real estate agents.
With the Exposé Designer from immoprofessional, you can create individual PDF templates of your real estate objects, e.g. for shop windows, e-mail dispatch or the objects on your website. With colored areas, image areas for object images, your own logos and images, object texts, QR codes, Google maps and much more.
With the Exposé Designer you can also create design templates for slideshows. For TVs, screens, tablets or beamers, which you can run, for example, in the shop window, in the office, in waiting rooms, in reception areas, or at trade fairs.

Since the slideshows react to mouse or swipe movements (touch display or motion sensor in the shop window), your customers can also actively intervene and, for example, wipe further or back. The slideshows can also be incorporated on your own website or any other website.

The PDF Exposé and Slideshow Designer is already fully integrated in the immoprofessional software - including many ready-made templates!
Test 30 days without obligation & free of charge
Thank you!
You will shortly receive an email to "" with the login to your personal test version. Of course, it's free and non-binding.

All content that you enter in the test version will be used with a later order. So you can hit the ground running with your personal test version of immoprofessional.

Internet greetings - your immoprofessional team.
Convince yourself now and discover the impressive
possibilities of your new brokerage software!