Already included under the monthly rates for users!
Whether classic computer, notebook, tablet or smartphone: your Internet presence from immoprofessional always functions – regardless of the device used or the respective screen resolution. The contents are adjusted accordingly to suit the device. The texts and images of your websites are scaled automatically such that everyone visiting the site has optimum display. With immoprofessional you are always at the state of the art – also thanks to the latest, advanced responsive web design for your Internet presence.


Görz Immobilien e.K.

Quickborn

www.goerz-immobilien.de
Ria Homes Lda.
Moncarapacho - Portugal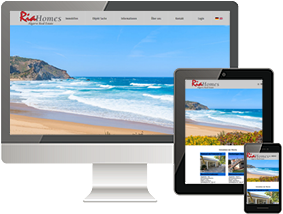 www.ria-homes.pt
dinc immobilien GmbH
Bad Oeynhausen

www.dinc-immobilien.de